New or interesting beetles from the Abruzzi region (Central Italy) (Insecta Coleoptera)
Abstract
New data on the beetle fauna of the Abruzzi region (Central Italy) are presented. New data on ecology and distribution are provided for three species of Cerambycidae previously recorded for the region and three species (one Cerambycidae and two Scarabaeoidea) are recorder for the first time for the region: Agapanthia (Epoptes) cynarae (Germar, 1817), Copris hispanus cavolinii (Petagna, 1792), Triodontella nitidula (Rossi, 1790).
Downloads
I dati di download non sono ancora disponibili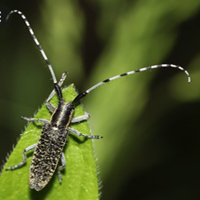 Info
Parole chiave:
Cerambycidae, Scarabaeidae, Faunistics, Ecology, Palaearctic region
##article.stats##
Abstract views:

1878



PDF:

32
Come citare
Poloni, R., & Morelli, A. (2021). New or interesting beetles from the Abruzzi region (Central Italy) (Insecta Coleoptera). Bollettino Della Società Entomologica Italiana, 153(1), 39-41. https://doi.org/10.4081/bollettinosei.2021.39
Copyright (c) 2021 Bollettino della Società Entomologica Italiana
Questo lavoro è fornito con la licenza Creative Commons Attribuzione - Non commerciale 4.0 Internazionale.