First report of Baryscapus silvestrii in Calabria, Italy (Chalcidoidea Eulophidae)
Abstract
The eulophid Baryscapus silvestrii Viggiani and Bernardo is reported for the first time in the Calabria region (Southern Italy). Adults of the eulophid emerged in September 2019 from olive fruit fly Bactrocera oleae (Diptera Tephritidae) puparia detected during a survey in an experimental olive groove in Mirto Crosia in Cosenza province.
Downloads
I dati di download non sono ancora disponibili
Riferimenti bibliografici
ASKEW R.R., SHAW M.R., 2005 - Observations on the biology of Baryscapus (Hymenoptera, Eulophidae, Tetrastichinae) with description of a new koinobiont hyperparasitoid with delayed development. Acta Societatis Zoologicae Bohemicae, 69: 11-14.
BERNARDO U., GUERRIERI E., 2011 - Controllo eco-sostenibile della mosca dell'olivo: recenti acquisizioni. Acta Italus Hortus, 1: 349-352.
CALECA V., GIACALONE C., MALTESE M., TORTORICI F., 2016 - Contenimento naturale di Bactrocera oleae (Rossi): clima o parassitoidi? Confronto tra Western Cape (Sud Africa) e Sicilia. Atti Accademia Nazionale Italiana di Entomologia, 64: 99-105.
DAANE K., JOHNSON M., 2010 - Olive Fruit Fly: Managing an Ancient Pest in Modern Times. Annual Review of Entomology, 55: 155-169.
DAANE K.M., WANG X., NIETO D.J., PICKETT C.H., HOELMER K.A., BLANCHET A., JOHNSON M.W., 2015 - Classic biological control of olive fruit fly in California, USA: release and recovery of introduced parasitoids. BioControl, 60: 317-330.
GIACALONE C., MALTESE M., CALECA V., 2011 - Parassitizzazione di Bactrocera oleae su olivo coltivato e selvatico in Sicilia e nel western cape (Sud Africa). Atti del XXIII Congresso Nazionale Italiano di Entomologia. Genova, 13-16 giugno 2011: 338.
GRAHAM M.W.R. DE V., 1991 - A reclassification of the European Tetrastichinae (Hymenoptera, Eulophidae): revision of the remaining genera. Memoirs of the American Entomological Institute, 49: 1-322.
NEUENSCHWANDER P., MICHELAKIS S., KAPATOS E., 1986 - Tephritidae. Dacus olee (Gmel.), pp. 115-159. In: ARAMBOURG Y. (ed), Traité d'Entomologie oleicole. Conseil Olieicole International, Madrid.
NOYES J.S., 2020 - Universal Chalcidoidea Database. World Wide Web electronic publication. http://www.nhm.ac.uk/chalcidoids (accessed 2020).
SASSO R., GUALTIERI L., RUSSO E., NUGNES F., GEBIOLA M., BERNARDO U., 2020 - The establishment of a rearing technique for the fruit fly parasitoid Baryscapus silvestrii increases knowledge of biological, ecological and behavioural traits. BioControl, 65: 47-57.
VIGGIANI G., BERNARDO U., SASSO R., 2006 - Description of Baryscapus silvestrii, n. sp. (Hymenoptera, Eulophidae), a new gregarious parasitoid of the olive fly Bactrocera oleae (Gmelin) (Diptera, Tephritidae) in southern Italy. Bollettino del Laboratorio di Entomologia agraria Filippo Silvestri, 61: 63-70.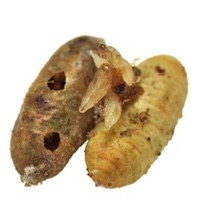 Info
##article.stats##
Abstract views:

85



PDF:

2
Come citare
Vizzarri, V., Novellis, C., & Rizzo, P. (2020). First report of <em>Baryscapus silvestrii</em&gt; in Calabria, Italy (Chalcidoidea Eulophidae). Bollettino Della Società Entomologica Italiana, 152(2), 75-78. https://doi.org/10.4081/bollettinosei.2020.75
Copyright (c) 2020 Bollettino della Società Entomologica Italiana
Questo lavoro è fornito con la licenza Creative Commons Attribuzione - Non commerciale 4.0 Internazionale.